Look no more for Earthmoving Contractors Brisbane… We are here !

Clearing a residential construction site, upgrading your backyard, clearing a land in a mining site, or just clearing the way for road construction are some of the demanding tasks that require the use of the right equipment.
Regardless how big or small your project may be, it is always critical to ensure that you have the right expert to do it properly. If your current earthmoving project is giving you a headache, then we can help you.
At B E Plant Hire, we are equipped with modern earthmoving machines for hire. They are all coupled with professional and well-trained operators. We have a comprehensive range of earthmoving machines to match a huge range of your projects. Whether you want equipment suited for heavy-duty excavation or drilling, then we are equipped with them all.
To eliminate unnecessary worries, we do deliver our equipment to your construction site making it easy to get started on your project. Again, whether you want them on short notice, you can still get them at very competitive rates.
Trained Earthmoving Contractors Brisbane 
If you need the most trained Earthmoving contractors Brisbane, then you can be sure to count on us. This is because;
They are qualified and experienced for the job. Consider checking our contractor portfolio and see the number of projects we have successfully handled. Whether you need them for a large scale or small scale work, they are the right experts with the right skills you are looking for. Unfinished projects can be very frustrating and often arise due to picking the wrong earthmoving contractors Brisbane. Be sure to check our track record.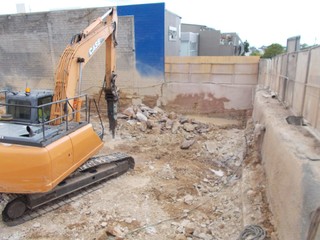 Attention to questions and details. Earthmoving needs vary from one person to another. Similarly, inputs and quotations vary and this is why it is vital to ensure that you are hiring a professional you are comfortable with and shows professionalism when doing the task. Recommendable projects are those that are completed within the required time frame.
Accredited and Insured earthmoving contractors Brisbane. Your family safety and the safety of those living near you and their property is essential during the earth-moving process. Therefore, it is good to ensure that the contractor you are hiring is accredited to provide safe site preparation.
An accredited contractor is capable of curbing any emergency that may occur on your job site. Our contractors will follow all the earthmoving and excavation procedures thus eliminating conflicts with the federal and state regulations. This includes proper disposal of wastes and mother materials. This is beneficial in case you want a clean job site where you can start your project instantly.
Uses proper earthmoving equipment that is tested to work. The use of machinery that is in optimal condition is essential in ensuring that your job is completed safely and on time. Not all earthmoving equipment are suited for all projects.
Contractors that regularly services their equipment are the recommended experts to hire. The flexibility and versatility of earthmoving and excavating equipment can accomplish a variety of tasks including digging trenches, setting foundations and earthmoving among other tasks.
For more than a decade, we have been providing reliable earthmoving services to clients in Brisbane and beyond. We are a one point call for all your earthmoving needs. With a fleet of earthmoving machines, you can be sure to have all your site preparation or road construction completed in the least time.
We can handle any earthmoving job as we are an all-inclusive construction partner providing unrivaled Brisbane earthmoving contractors services. We know that delays can hamper your construction plans and even bring additional expenses. However, with the right on-time earthmoving service, you can be sure to accomplish your projects on time.
B E Plant Hire Earthmoving Contractors Brisbane 
Call us today for an obligation free quote on site quote for all your construction project. We have the most reliable and heavy equipment that is ideal for all your construction needs.
Among the heavy equipment that we have include skid-steer loaders, bulldozers, backhoe loaders, excavators and motor graders and more. All of these machines are essential and work synergistically to have a task done efficiently.
If you need them all, you can hire them at affordable rates from us. B E Plant Hire is the partner to hire for all your earthmoving needs in Brisbane. Get your construction job done efficiently and on time by contacting us today and our Earthmoving Contractors Brisbane will do it right for you.